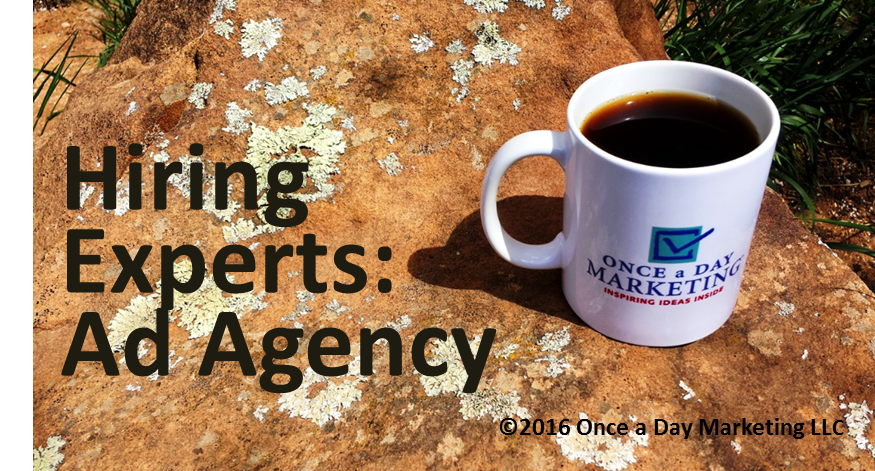 Hello, I'm Jim Glover, That Branding Guy, for Once a Day Marketing™. Today we are having a discussion focused on practical advice to use when you consider hiring experts to assist you with branding and marketing.
As a Once a Day Marketing™ follower, you understand why branding and marketing are essential to the success of your business. To ensure you are moving in the right direction, evaluate the results of your efforts and determine if you are attaining the desired results. If you aren't and don't have the resources or expertise in-house to manage branding and marketing efforts, you may want to consider seeking assistance from an expert.
Considerations when determining whether or not you should outsource your branding and marketing:
• Do you have a marketing plan in place?
• Are you consistently implementing that plan?
• Do target customers clearly understand your brand?
• Are you satisfied with your creative material (website, ad copy, brochures)?
• Are customers responding by calling, buying your product, visiting your website, etc.?
If you decide to hire outside assistance these are a few key items to review:
• Have you established a good rapport with the individual or company? You will be working closely with them so it is very important that you work well together. Your branding consultant should be excited about your brand and branding and share that enthusiasm with you.
• Review examples of the consultant's past work and make sure you like their style. Don't assume that because they are talented they will be able to provide the end product you have in mind.
• Look at their approach and the steps they will take to complete your scope of work.
• Call/review references, look at the age of the references and if they are not recent, request more up to date contacts.
Also, consider a phased implementation. Don't encompass all the work into one milestone to be delivered at the end of the project. Rather, establish a number of smaller milestones, review and approve one milestone at a time and then move on to the next. Lastly, be very clear on the materials or deliverables the consultant will turn over to you when the work is complete.
Once a Day Marketing™ inspires clients to brand bold. Visit our website at www.onceadaymarketing.com. Contact James Glover at (505) 501-1330 or email glover@onceadaymarketing.com. Listen to That Branding Guy™ every Saturday at 2:00pm (MDT) on KTRC 1260 AM or stream live on SantaFe.com
© 2018 Once a Day Marketing™. All rights reserved.
Filed in: General