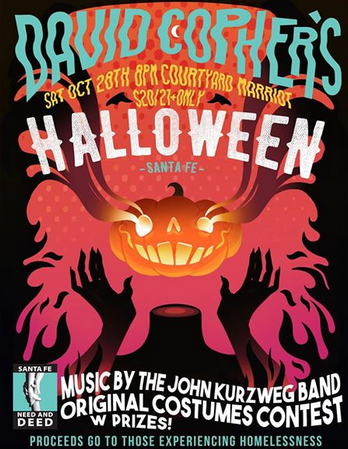 Hello, I'm Jim Glover, That Branding Guy, for Once a Day Marketing™. On our radio show That Branding Guy™, we discussed branding and marketing of a fund raising event.
Joining us on the show was artist David Copher who has been painting and sculpting in Santa Fe for 28 years. His work is on display at his gallery on Johnson Street near the Georgia O'Keeffe Museum. David is also a supporter of the small non-profit Santa Fe Need and Deed (SFNAD) whose mission is to serve the needs of the homeless in the community including support groups and food service.
Need and Deed's annual Halloween fund raising event is coming up on Saturday, October 28, 2017 and is primarily organized by David. The Halloween party was originally created by David many years ago as an event to promote David's own gallery and he has since aligned party with the Need and Deed organization.
The event has grown to over 400 attendees and will be held this year at the Courtyard by Marriott on Cerrillos Road. All proceeds benefit the Need and Deed organization.
With more space at the Courtyard by Marriott, guests will enjoy two live bands, a large dance floor and a costume contest. David crafts jewelry that is given away to costume winners. Tickets are available at the door at this 21 and over event.
To get the word out about the event, David focuses on publishing news on the Facebook site for his gallery – David Copher Gallery, it's advertised on the Need and Deed Facebook site as well. Both pages feature a poster for the event has been created by a local artist. This year the event was also publicized through print and radio, raising awareness for both Need and Deed and the David Copher Gallery.
Glover suggested the organization take advantage of the large audience at the event and provide attendees an opportunity to donate to Need and Deed in addition to event admission. He also noted that it would increase effectiveness of their message if Need and Deed talked more about the Why behind their organization.
Enjoy the show!
 Once a Day Marketing™ inspires clients to brand bold. Visit our website at www.onceadaymarketing.com. Contact James Glover at (505) 501-1330 or email glover@onceadaymarketing.com. Listen to That Branding Guy™ every Saturday at 2:00pm (MDT) streaming live on SantaFe.com KTRC 1260.
 © 2017 Once a Day Marketing™. All rights reserved.
Filed in: Strategy
Tagged with: fund-raiser • why