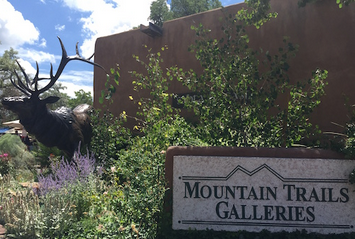 Listen to our featured That Branding Guy radio show podcast: Mountain Trails Gallery
Hello, I'm Jim Glover, That Branding Guy, for Once a Day Marketing™. On our radio show That Branding Guy, we discussed branding and marketing with a Santa Fe gallery owner.
Joining us on the show was Kevin French – owner of Mountain Trails Gallery where his team is passionate about western art and connecting artists and their stories with collectors and their homes.
We discussed the importance of traffic flow in the gallery area and once again the old adage of location, location, location proves true. Mountain Trails can be found on Old Santa Fe Trail across from the Inn at Loretto and nearby Loretto Chapel. This is a very highly traveled area in the city and generating this foot-traffic awareness has been good for the gallery.
Kevin noted that this prestigious downtown location is important to leverage visitors already in town for other events such as Spanish Market and Indian Market. This is already an art-minded audience. The keys to Kevin's success, however, are the quality of the western art exhibited, such as sculptures/monuments and paintings, and providing great customer experience.
Enjoy the show!
Once a Day Marketing™ inspires clients to brand bold. Visit our website at www.onceadaymarketing.com. Contact James Glover at (505) 501-1330 or email glover@onceadaymarketing.com. Listen to That Branding Guy™ every Saturday at 2:00pm (MDT) streaming live on SantaFe.com KTRC 1260.
© 2017 Once a Day Marketing™. All rights reserved.
Filed in: Place • Strategy
Tagged with: art gallery • location