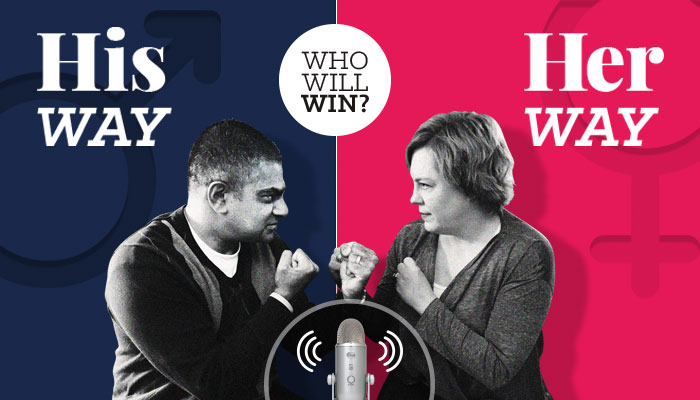 Hello, I'm Jim Glover, That Branding Guy, for Once a Day Marketing™. On our radio show That Branding Guy™, we discussed branding and marketing with the hosts of a popular podcast.
Joining us on the show were Javed Khan and Stacy Maynard – hosts of the His Way Her Way Podcast. In addition to the podcast, Javed and Stacy are both entrepreneurs and marketing consultants. Stacy's business offers services in a variety of areas including social media, online marketing and video. Stacy is also a LinkedIn specialist and author. Javed's company is a marketing services organization focused on digital media/marketing, websites, content and brand identity & strategy. Javed is also a speaker at conferences and events.
For those who may not be familiar with podcasts, they are simply audio files on the internet. Podcasts are easy to create and can be used as content on a websites and social media sites.
Javed and Stacy's podcast, His Way Her Way, came about after they met at an event and realized they have a lot in common and really wanted to work together. The show is unscripted and provides a forum for their diverse opinions on a wide variety of topics. The podcast is receiving great feedback from listeners!
Stacy shared that one way they generate topics is for listeners to send them questions. Javed is inspired by conversations with people he connects with at speaking engagements and conferences. The resulting discussions on the show generate more questions and as a result, more podcasts.
The podcast is available on SoundCloud/HisWayHerWay which is a great interface to iTunes and has an app for Android users as well. These features make listening easy on a variety of devices. Javed & Stacy get the word out about the podcast by distributing the latest link via email lists and social media channels. The click-through rate on the e-mails has been very good.
Enjoy the show!
Once a Day Marketing™ inspires clients to brand bold. Visit our website at www.onceadaymarketing.com. Contact James Glover at (505) 501-1330 or email glover@onceadaymarketing.com. Listen to That Branding Guy™ every Saturday at 2:00pm (MDT) streaming live on SantaFe.com KTRC 1260.
© 2017 Once a Day Marketing™. All rights reserved.