About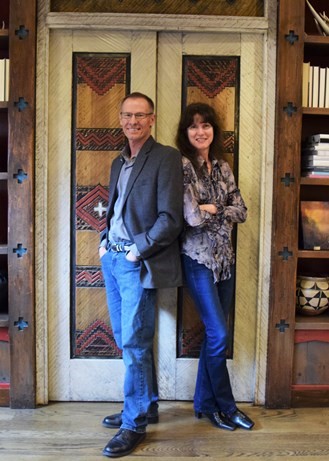 Once a Day Marketing is a boutique consultancy designed to support the efforts of clients to enhance the strength and stature of their brands. Based in Santa Fe, New Mexico, Once a Day Marketing inspires clients to brand bold and market every day to achieve their branding goals.
Once a Day Marketing specializes in brand positioning, brand identity and brand integration for communities. We are experts at developing place branding action plans that encompass the strategy and tactics needed to ensure that community members understand the mindset of the brand and work together to deliver on the brand promise.
Once a Day Marketing has developed community brands and led brand integration for many New Mexico communities including Farmington, Village of Los Lunas, Gallup, Alamogordo, and Los Alamos. Further, our company is currently engaged in supporting the efforts to develop an outdoor recreation industry in Farmington and a tourism sector in Los Lunas.
James Glover
Co-Partner James Glover has over 30 years of strategic branding and planning experience. Glover is an expert at community branding, and supports economic development, tourism and community development as well. As project manager and strategist, Glover leads new business development, client relations, project management, strategic planning and branding initiatives.
Prior to starting Once a Day Marketing, Glover was the founding partner of The Idea Group of Santa Fe, LLC. The company primarily provided strategic solutions to communities in New Mexico. Clients included Raton, Las Vegas, Tucumcari, Santa Fe, Santa Rosa, Albuquerque, Harding County, Estancia Valley, Guadalupe County, Aztec, Clovis, Angel Fire, Questa, Acoma Business Enterprises, Truth or Consequences, Elephant Butte, Gallup, Farmington, Las Cruces, and Los Lunas.
Known as "That Branding Guy," Glover is one of nation's top branding bloggers and has produced over 700 blogs reaching followers in over 170 countries. Glover was formerly the host of "That Branding Guy™ radio show.
Prior to forming The Idea Group, Glover headed Total Entertainment, a media/marketing company based in Santa Monica, CA. He provided strategic direction to corporate and entertainment clients such as American Honda, Sprint, MCI, The Upper Deck Company, Beckman Instruments, Computer Sciences Corporation, Computer Learning Center, US Air, Hertz, The Four Seasons and Ritz Carlton. He managed more than 200 media projects in the capacity of producer, director and writer. Glover also served as production manager for MPH Entertainment in Burbank, a leading developer of non-fiction programming for major cable networks including A&E, Discovery Channel, History Channel and MSNBC.
Early in his career, Glover worked in Silicon Valley as a financial analyst and operational auditor. He earned his MBA in marketing from the University of California, Irvine (UCI) and his BS in international business from the University of Oregon.
Marianne Tenenbaum
Marianne Tenenbaum, Branding Strategist, has been analyzing client needs, successfully driving projects and delivering superior customer support for over 25 years. She is responsible for client relations, project management, strategic planning and community branding. Tenenbaum co-produces the Ask Those Branding Guys™ radio show and manages content for Once a Day Marketing™ blogs and social media campaigns. Prior to forming Once a Day Marketing, Marianne spent much of her career at Fortune 25 Financial Services companies.
Marianne's extensive background includes public and corporate accounting and a variety of roles including project management, leading software development teams and liaison with business partners at Bank of America and JMP Chase Card Services. Her expertise is focused around strategy, planning, cost transparency, process improvement and financial operations. While at Once a Day Marketing, Marianne has worked on economic development, branding, strategic consulting and quality of life initiatives.
Tenenbaum has a BS in Accounting from Long Island University, achieved her CPA License, has earned a Six Sigma Green Belt certification and lectures on the essentials of good process.